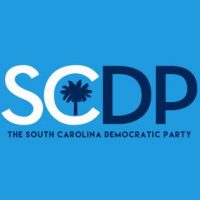 FOR IMMEDIATE RELEASE
Contact: lauren@scdp.org, 803-832-0819
Date: January 7, 2021        
SENATOR LINDSEY GRAHAM, SOUTH CAROLINA REPUBLICANS WILL BE HELD ACCOUNTABLE
"Trump and I — we had a hell of a journey. I hate it being this way. " 
COLUMBIA, SC—  South Carolina Democrats are once again calling for the resignation of SC GOP officials including Senators Lindsey Graham, Tim Scott, Reps. William Timmons, Ralph Norman, Joe Wilson and Nancy Mace. Donald Trump's flagrant violation of our laws has been aided and abetted by Republicans in Congress who must and will be held accountable. They alongside Donald Trump should be forced to resign for violating their constitutional oath of office and tried for treason.
Trump voters led a coup and full on assault on the United States Capitol. South Carolina Republicans ran on Trump's racist and xenophobic platform, were elected to office by his voters, campaigned with and for him. After four long years, today is the day Lindsey Graham and the Republicans decided they have had enough. They believe they can simply avert their eyes, and quietly cut ties with a monster the SC GOP, led by Lindsey Graham created and inflamed.
Their outright refusal to rebuke Donald Trump's unconstitutional behaviors in the past resulted in his followers violently breaching Congress yesterday. Each has taken an oath to protect and defend the Constitution and the United States from all enemies foreign and domestic and miserably failed to do so. 
The people of South Carolina will not stand idly by knowing our elected officials willfully aided and abetted Donald Trump's full fledged assault on Democracy. We are calling for:
Congress to call for the immediate removal of Donald Trump from office

Demanding SC Republicans in Congress support charging Donald Trump with sedition and inciting insurrection 

South Carolina Republican members of Congress must provide proof to the contrary, or also be charged with sedition
###