"All In:" Harrison, SCDP Launch Coordinated Campaign to Defeat Graham and Secure Democratic Victories Up and Down Ballot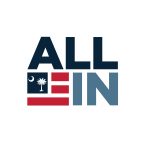 Columbia, S.C. — Today, with just 100 days until the November 3 election, Jaime Harrison for U.S. Senate and the South Carolina Democratic Party (SCDP) are joining forces to officially launch, "All In," the coordinated campaign to defeat Sen. Lindsey Graham and win other crucial elections on the federal, state, and local levels.

"Democrats in South Carolina are speaking with one voice: We are all in to send Lindsey home," Zack Carroll, Jaime Harrison for U.S. Senate campaign manager said. "After 25 years in Washington, it is clear that Lindsey Graham has lost touch with the hardships faced by his constituents. Jaime Harrison offers a bold vision of putting South Carolina families first, and as senator will fight for affordable healthcare, quality education and rural broadband access so that every community across the state can flourish. Combining forces will make sure Democrats have the resources we need to defeat Lindsey Graham and win important races at every level of government."

"Speaking as one unified South Carolina Democratic Party, we are all in to make Jaime Harrison our next U.S. Senator," Christale Spain, coordinated campaign director said. "Combining forces will also aid our party's efforts to elect bold leaders up and down the ballot here in South Carolina, and reclaim majorities in the General Assembly. With recent hires, this party is more ready than ever."


Coordinator Campaign Senior Staff:

Christale Spain, coordinated campaign director

Zachary Amos, organizing director

Elena Kershaw, director of operations

Joyce Rose-Harris, digital organizing director

"All In" has hired over 60 staff including over 40 field organizers. It also has over 1,300 volunteers all across South Carolina. Using phone calls, texts and other methods, members of our organizing team have made over one million attempts to contact South Carolina voters already.
###