South Carolina Democrats we are 84 days away from Election Day!
** Please Note: All events listed are virtual or online unless otherwise noted.**
Tuesday, August 11th
---
Greenville/Spartanburg Candidate Happy Hour with Ty Washington and Dr. Dawn Bingham
RSVP
"ALL IN" Coordinated Campaign Regional Phone Banks. Help SCDP elect Jaime Harrison as our next United States Senators by making calls to voters in your region. Sign up.
Tell Them Tuesday | 130 South Main Street | Greenville, SC 29601. On Tuesdays we assemble to peacefully protest our grievances against Trump, Graham, McMaster, and address their failed policies and the impact its had on South Carolinian voters. Sign up.
Phone Bank for KIM NELSON
for Congress
4:30 PM – 8:00 PM
Join fellow volunteers in the fight to elect Kim Nelson for U.S. Congress! Make calls from the safety of your home as we call voters in Greenville and Spartanburg Counties (CD-04). Sign up.
Carolina Forest Democratic Club (Horry County). All are welcome. For more information, contact Club President Alester Pryor at 843-236-2159. Sign up.
Beaufort County Executive Committee Meeting 5:30 – 7:00 PM Sign Up.
Wednesday, August 12th
---
Virtual Community Meet & Greet with Ed Sutton and Sam Skardon 6:00 PM – 7:00 PM. Please join Ed Sutton (Candidate for SC House District 114) and Sam Skardon (Candidate for SC Senate District 41) for a virtual community meeting. Bring your neighbors & questions! RSVP.
Virtual Candidate Forum with Richard
8:30 AM – 9:00 PM.
Come and speak directly to an SC Senate candidate who's ready to move SC FORWARD! Please feel free to invite your friends, neighbors, and co-workers! All interested must register through the Zoom link.
Protect and Track the Ballot FROM the voter BACK to the Board of Election with the New Postmaster General. Voters and Candidates need all the safety measures they can get to ensure ballots can be counted and WILL COUNT! RSVP: fran@emfconsulting.org
Thursday, August 13th
---
"ALL IN" Coordinated Campaign Regional Phone Banks 11:00 AM until 7:00 PM. Sign up.
Daily Virtual Phonebank for Joe Cunningham 4:00 PM – 6:30 PM. This election will be close, and we are counting on supporters like you to help us reach our goals. Whether this is your first time getting involved or you're already an experienced phonebanker, we need you on this team! RSVP.
Join Team Jaime for a biweekly virtual volunteer happy hour with our digital organizer Emily L.! We'll use this time to get to know each other, talk about the campaign, and hang out! 5:00 – 6:00 PM. Sign up.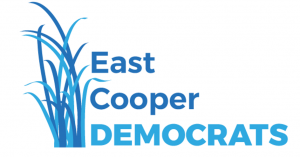 Relational Organizing with the East Cooper Democrats. Join us Thursday for a discussion on relational organizing. Let's use our voices to engage and educate our network of democrats to flip SC blue! 7:00 – 8:00PM. RSVP.
Aiken County Democratic Party Early Absentee Voting Phonebank. We are asking you to call Democratic voters over 65 years of age to educate voters on those two options. Click the "start making calls" link to ACT NOW or sign up for daily shifts. RSVP.
SCDP LIVE ON FACEBOOK
Join the SCDP Faith & Healthcare Caucus for another riveting dialogue, "From the Prisons to the Polls", featuring author Freeway Ricky Ross, activist and actor Bruce Franks, Jr and SCDP Chairman, Trav Robertson. RSVP.
Friday, August 14th
---
Beach Dems Meeting (Horry County) | Friendly's Restaurant | 4705 N Kings Hwy Myrtle Beach, SC 29577 | 8:30 – 9:30 AM. Sign up.
LOWCOUNTRY YOUNG DEMS PRESENTS: Listening, Leading and Learning
Hear from three of South Carolina's State Senate Candidates, ready to take back the Statehouse in Columbia.
Each week on The Parmley Report, SCDP Executive Director Jay Parmley gives an exclusive look behind the scenes at the party, while highlighting our amazing leaders working to #ElectMoreDems.
Join Jay this Friday when his special guest is SCDP Voter Protection Unit Director, Shaundra Scott. RSVP.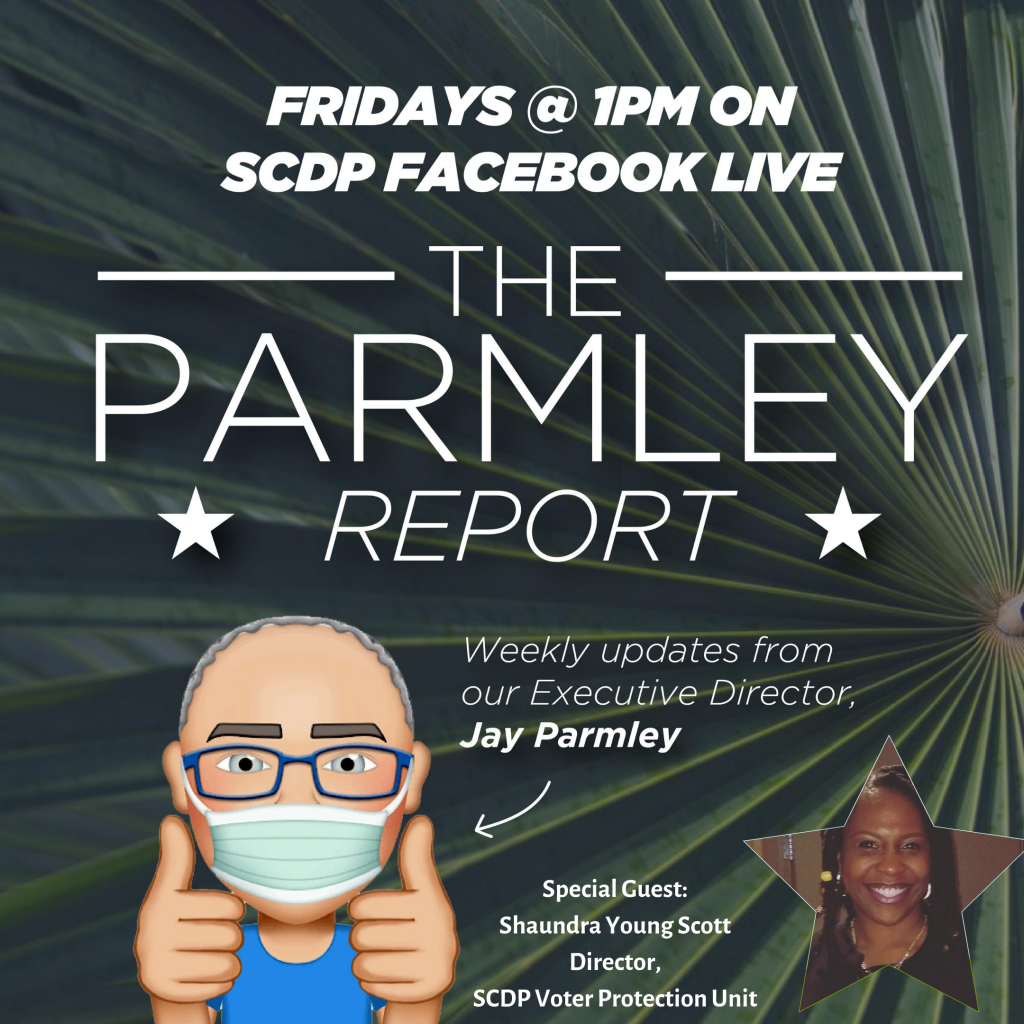 Saturday, August 15th
---
Monday, August 16th
---
"ALL IN" Coordinated Campaign Regional Phone Banks 2 hour shifts starting at 11:00 AM until 7:00 PM. Sign up.