Columbia, SC – The South Carolina Democratic Party Chairman Jaime Harrison issued the following statement about the tragic and senseless massacre of nine South Carolinians, including Democratic State Senator Clementa C. Pinckney:
"Last night, South Carolina lost an inspirational leader and eight parishioners who were gathered in their house of worship.  And I lost a dear friend," SCDP Chair Jaime Harrison said.

"As we mourn, we should remember the spirit of those gathered at Mother Emanuel last night. We should hold their love in our hearts. My friend, State Senator Clementa Pinckney, was a husband, a father, a son, a pastor, and much more.  He was compassionate, caring, stoic, and he brought people together for all the right reasons.  He was a great man."

"We should also remember the mission of Mother Emanuel. For two centuries Mother Emanuel has served as a force for change through the power of love. Mother Emanuel's resiliency should serve as an example to us all.

"I ask all of South Carolina and citizens across the nation to lift up in prayer this community and the families of the victims of this terroristic act.  We will not bow our knees to hatred, but stiffen our backs and continue to fight for harmony, truth and justice for all."
About Senator Pinckney: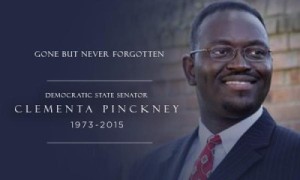 He Is Survived by His Wife & 2 Children
Senator Pinckney and his wife, Jennifer, have two children, Eliana and Malana. They live in Ridgeland, South Carolina.  The couple married in October 1999 after meeting while Senator Pinckney was a student at Allen University and Mrs. Pinckney was attending the University of South Carolina.
Senator Pinckney Was the Youngest African-American in South Carolina's History to be Elected to the Legislature
Senator Pinckney was a Page in the State House and, in 1996, at the age of the 23, he began serving in South Carolina's legislature at a state representative. At the time, he was the youngest African American ever elected to the legislature. He was then elected to the State Senate in 2000.
A Beaufort, South Carolina native, Senator Pinckney graduated from Allen University in 1995, was a Princeton University Research Fellow in 1994, earned his Master's of Public Administration from the University of South Carolina in 1999 and studied at the Lutheran Theological Southern Seminary.
He Has Been a Pastor Since He Was 18
Pastor Pinckney began preaching at the age of 13, and was first appointed to pastor at 18. He was named pastor at the Mother Emanuel AME Church in Charleston in 2010.
He Stood Alongside Other Pastors at Rallies After the Walter Scott Shooting
Pinckney and other South Carolina pastors held rallies after the shooting of Walter Scott. He also played a key role in pushing for body camera legislation, co-sponsoring a bill that was recently signed into law by the governor.