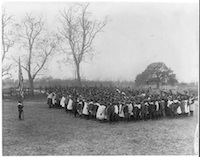 Memorial Day began in South Carolina.  On May 1, 1865, nearly 10,000 people, most of them newly free, gathered at the old Washington Race Course in Charleston to honor the Union soldiers who had died in the fight to emancipate them.  That location, which had been a prison camp during the Civil War, is now Hampton Park.
Today, we follow in the footsteps of our fellow South Carolinians to honor the men and women who gave the ultimate sacrifice for our freedom.  Those they commemorated then and we commemorate today fought for the liberty not just of their own families and communities, but also for the liberty of Americans they hadn't met, Americans they didn't live near, Americans they didn't look like, and Americans who weren't even Americans yet.  Through their selflessness, our independence has been achieved, extended, expanded, and enriched.  Through the selflessness they inspire, our nation will be ever enhanced.
Happy Memorial Day from the South Carolina Democratic Party.